22 September 2014
Public Lectures at Universität Hamburg:
General Lecture Series starts on 1 October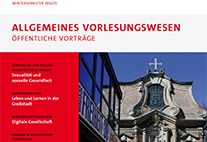 Photo: UHH/AWW
Programmheft
Once again, Universität Hamburg offers a versatile public lecture program in the upcoming winter semester. Altogether, our Public Lecture Series comprises thirty-five offerings which consist of 340 individual lectures. There are no restrictions on admission or participation and all lectures are free of charge. Read on in German
Die Themen sind breit gefächert: Von "Sexualmedizin und sexuelle Gesundheit" über "Interkulturelle Bildung" bis zu "Biodiversität und Biologische Ressourcen". Das neue Institut für Katholische Theologie sucht mit der Ringvorlesung "Theologie im Gespräch" den Dialog mit anderen Wissenschaften und mit der Gesellschaft der Gegenwart. Auch aktuelle Themen kommen nicht zu kurz wie z. B. die "Rückkehr des Kalten Krieges? Die Ukraine als umkämpfter Raum in historischer Perspektive" oder in der Vorlesung "Crossing Borders", die sich mit illegaler Migration und Flüchtlingsfragen befasst. Die Ringvorlesung "Schätze, die die Welt erklären" lädt zu einer Reise durch die wissenschaftlichen Sammlungen der Universität ein.
Die Ringvorlesung "Anthropologische Psychiatrie" begeht im Wintersemester mit einer weiteren Vorlesungsreihe und einem Festakt ihr 15-jähriges Jubiläum. Darüber hinaus gibt es öffentliche Vorlesungsreihen in Kooperation, beispielsweise mit dem Thalia Theater, der Hamburger Sternwarte, der Hamburg Messe und anderen Hamburger Hochschulen.
Das vollständige Programm finden Sie im Internet unter: www.aww.uni-hamburg.de/av.html
Die Veranstaltungen finden überwiegend abends statt, eine Anmeldung ist nicht erforderlich.
Das Programmheft mit allen Themen und Terminen liefert Hintergrundinformationen zu den Vorlesungsthemen und Hinweise auf weitere kulturelle universitäre Angebote. Es liegt im Hauptgebäude der Universität und an vielen anderen öffentlichen Orten der Stadt aus und kann bei der Arbeitsstelle für wissenschaftliche Weiterbildung abonniert werden.
Auskünfte und Programm-Abonnement:
Daniela Steinke
Universität Hamburg, Arbeitsstelle für wissenschaftliche Weiterbildung
Tel.: 040 428 83-2476, -2499 (Infotelefon)
E-Mail: av"AT"uni-hamburg.de
Für Rückfragen:
Magdalene Asbeck
Universität Hamburg
Arbeitsstelle für wissenschaftliche Weiterbildung
Tel.: 040 428 83-2487
E-Mail: m.asbeck"AT"aww.uni-hamburg.de