3 June 2014
Press conference and public lectures:
Brain mapping: Inside the brain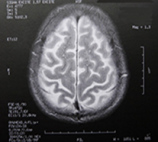 Photo: Dieter Schütz / pixelio.de
Die MRT-Aufnahme eines Gehirns
Mind-reading, steering machines with nothing more than willpower – all no problem in science fiction. But how long before we can do this in real life? Over the last few years the neurosciences have made significant progress on this front, in particular through the development of new imaging techniques such as brain mapping.
Vom 8. bis zum 12. Juni 2014 findet in Hamburg die 20. Internationale Konferenz der Organization for Human Brain Mapping (OHBM) statt, zu der mehr als 3.000 internationale Wissenschaftlerinnen und Wissenschaftler in der Hansestadt erwartet werden. Organisiert wird die Veranstaltung von einem Team um Prof. Dr. Christian Büchel, Direktor des Instituts für Systemische Neurowissenschaften am Universitätsklinikum Eppendorf (UKE), Prof. Dr. Andreas Engel, Direktor des Instituts für Neurophysiologie und Pathophysiologie am UKE, und Prof. Dr. Brigitte Röder, Professorin für Biologische Psychologie und Neuropsychologie an der Universität Hamburg – alle drei Mitglieder der Akademie der Wissenschaften in Hamburg –, sowie Prof. Dr. Arno Villringer, Direktor des Max-Planck-Instituts für Kognitions- und Neurowissenschaften in Leipzig.
Einen Überblick über die neuesten Forschungsergebnisse und Diskussionen geben die Mitglieder des Rates der OHBM sowie die Programmverantwortlichen auf der
Pressekonferenz zur 20. Internationalen Konferenz der Organization for Human Brain Mapping,
am Mittwoch, den 11. Juni 2014, um 18.15 Uhr.
Ort: CCH-Congress Center Hamburg, Halle 1
Am Dammtor/Marseiller Str., 20355 Hamburg

Zum Start der Konferenz sind Medien und Öffentlichkeit zudem zu zwei öffentlichen Vorträgen mit anschließender Diskussionsveranstaltung herzlich eingeladen: "Erfolgreich altern – Einblicke aus der Hirnforschung" (Dr. Stefanie Brassen, UKE) sowie "Gedankenlesen aus der Hirnaktivität: Fakt oder Fiktion" (Prof. Dr. John-Dylan Haynes, Charité Berlin). Sie finden statt am Samstag, dem 7. Juni 2014, um 18.30 Uhr, im Hauptgebäude Universität Hamburg, Edmund-Siemers-Allee 1, 20146 Hamburg, Agathe-Lasch-Hörsaal (Hörsaal B, 2. OG).
Dr. Stefanie Brassen leitet die Arbeitsgruppe "Kognitives und emotionales Altern" am Institut für Systemische Neurowissenschaften des UKE und gibt in ihrem Beitrag einen Überblick über Befunde, die zeigen, dass die Mehrheit älterer Menschen eine hohe Lebenszufriedenheit und nicht zwingend Denkdefizite aufweist.
Prof. Dr. John-Dylan Haynes, Direktor des Berlin Center for Advanced Neuroimaging, forscht zu der Frage, ob Gedanken aus der Hirnaktivität ausgelesen und vorhergesagt werden können. Dabei stehen auch die Fragen der technischen und ethischen Grenzen im Mittelpunkt. In seinem Vortrag berichtet er, was mit modernen Hirnscannern möglich ist.
Nach den Vorträgen besteht die Möglichkeit, Fragen an die beiden Vortragenden sowie die Organisatorinnen und Organisatoren der Konferenz zu stellen. Die Veranstaltung wird von der Wissenschaftsjournalistin Angela Grosse moderiert.
Die Organization for Human Brain Mapping ist eine internationale Vereinigung, die sich für die Erforschung der Abläufe im menschlichen Gehirn mithilfe bildgebender Verfahren wie der Magnetresonanztomografie beschäftigt. Die neuesten Entwicklungen und Forschungsergebnisse werden in zahlreichen Workshops, Vorträgen und Diskussionen erörtert.
Für Rückfragen:
Prof. Dr. Brigitte Röder
Universität Hamburg
Biologische Psychologie und Neuropsychologie
Tel.: 040.42838-3251
E-Mail: Brigitte.Roeder"AT"uni-hamburg.de
Prof. Dr. Christian Büchel
Institut für Systemische Neurowissenschaften
Zentrum für Experimentelle Medizin
Universitätsklinikum Hamburg-Eppendorf
Tel.: 040.7410-59899
E-Mail: buechel"AT"uke.de
Prof. Dr. Arno Villringer
Max-Planck-Institut für Kognitions- und Neurowissenschaften Leipzig
Neurologie
Tel.: 0341.9940-2220
E-Mail: villringer"AT"cbs.mpg.de