3 April 2014
Parents' evening at Universität Hamburg
How can mothers and fathers help their children decide what to study?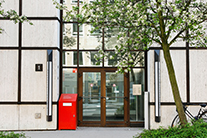 Photo: UHH/Baumann
Alsterterrasse 1
What should I study? And who is going to pay? Year after year, young adults who have just completed their secondary schooling are faced with these and other questions. They don't generally decide on their own - they turn to their parents for advice and, of course, financial help.
Read on in German...

Additional links
---