Publishing in academia—a joy and a burden
Five questions for Dr. Martin Husemann
10 May 2017, by Anna Priebe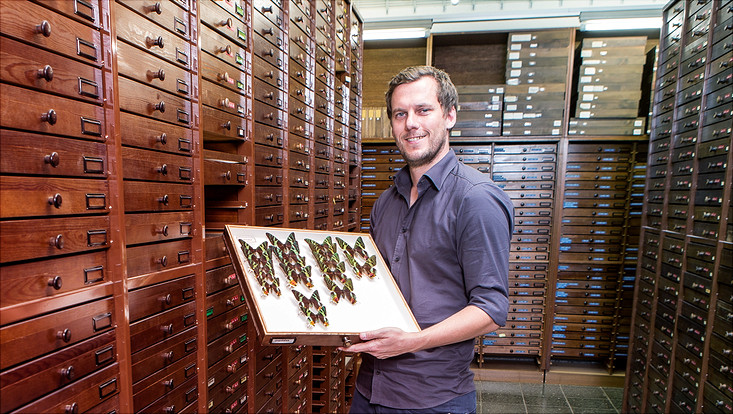 Photo: UHH, RRZ/MCC, Mentz
Dr. Martin Husemann and his colleagues from the Technical University of Munich have looked at ways biology researchers perceive the rise in publications.
More journals, more paper, more pressure: Martin Husemann (34), head of the Department of Entymology at the CeNak, and colleagues from the Technical University of Munich have investigated how researchers in the field of biology perceive tthe rise in publications. [Read on in German]
In Ihrer Studie haben Sie untersucht, von welchen Faktoren es abhängt, wie Wissenschaftlerinnen und Wissenschaftler das Publizieren empfinden – also als Stress oder als Befriedigung. Sie haben dafür den Begriff "Publicationism" geschaffen. Was bedeutet das?
Im Prinzip ist das ein paralleles Konstrukt zu "workaholism", also dass man durch den Druck zu Publizieren so stark gestresst wird, dass es einen eher behindert.
Wie genau bestimmt man denn den Stress beim Publizieren?
Wir haben klassische Indizes aus der 'workaholism'-Forschung verwendet, das heißt, die Teilnehmer haben Fragenkataloge bekommen, bei denen sie Aussagen zustimmen oder sie ablehnen mussten. Wir haben die speziell an das Thema 'Publikationsverhalten in der Wissenschaft' angepasst.
Sie haben für Ihre Studie rund 1.000 Wissenschaftlerinnen und Wissenschaftler aus der Biologie befragt. Was sind aus Ihrer Sicht die zentralen Ergebnisse?
Zum einen, dass der Druck in der Phase vor einer Festanstellung höher ist als in der späteren Karriere. Zum anderen gibt es einen klaren Effekt des Geschlechts: Frauen scheinen mehr durch Publikationen gestresst zu sein – wahrscheinlich vor allem durch die Vereinbarkeit der Karriere mit der Familienplanung. Es kam aber auch heraus, dass Publizieren größtenteils schon als etwas Positives wahrgenommen wird, weil es eben doch ein Anzeiger für die Qualität der Arbeit und des eigenen Fleißes ist. Insgesamt wird es also positiv aufgefasst, aber es ist auch eindeutig, dass es in den frühen Karrierephasen mit großem Stress verbunden ist.
Grundsätzlich ist Publizieren also nicht nur schlecht?
Nein, auf keinen Fall, denn wenn man seine Ergebnisse nicht publiziert, sind sie ja quasi wertlos. Aber die Art und Weise, wie das Publizieren heute häufig gehandhabt wird, ist kritisch zu sehen, weil es eben dazu führt, dass man ein Projekt in vielen kleineren Studien publiziert, um es schneller zu veröffentlichen und mehr Artikel zu produzieren. Im Extremfall kann das mitunter sogar dazu führen, dass Daten gefälscht und Ergebnisse doppelt publiziert werden. Das ist natürlich darauf zurückzuführen, dass es diesen extremen Druck gibt. Allerdings handelt es sich hier wirklich um seltene Ausnahmen.
Kann man aus der Studie Ansatzpunkte für Änderungen ableiten?
In erster Linie ist es erstmal das Feststellen eines Standes. Es ist schwierig, Vorschläge zu machen, weil man als Wissenschaftler einfach bewertet wird, was ja generell auch gut ist. Es gibt zu wenig Stellen, als dass man gar nicht mehr bewerten könnte, das heißt, es muss eine Auswahl getroffen werden und die Stellen werden an die gegeben, die am meisten geleistet haben. Da ist es schwierig, Alternativen zu finden. Auf der anderen Seite ist der Job des Wissenschaftlers sehr komplex: Man forscht nicht nur, sondern ist auch in der Lehre tätig, betreut Studenten, publiziert, ist für Mitarbeiter zuständig und muss sich mit der Bürokratie auseinandersetzen; in unserem Fall kommen auch noch die Sammlungen dazu. Man könnte zum Beispiel die Lehrtätigkeit in der Bewertung mehr berücksichtigen.
Studie: Husemann, Martin; Rogers, Rebecca; Meyer, Sebastian; Habel, Jan Christian (2017): "Publicationism" and scientists' satisfaction depend on gender, career stage and the wider academic system. Palgrave Communications. 3:17032 doi: 10.1057/palcomms.2017.32. http://www.palgrave-journals.com/articles/palcomms201732
---
Contact
Dr. Martin Husemann
Centrum für Naturkunde (CeNak)
Martin-Luther-King-Platz 3
20146 Hamburg