Prizes and distinctions in May 2017
Eliane Lorenz, Stephanie Schrage, and Jan Wilkens receive Übersee-Stipendium
30 May 2017, by Online-Dienste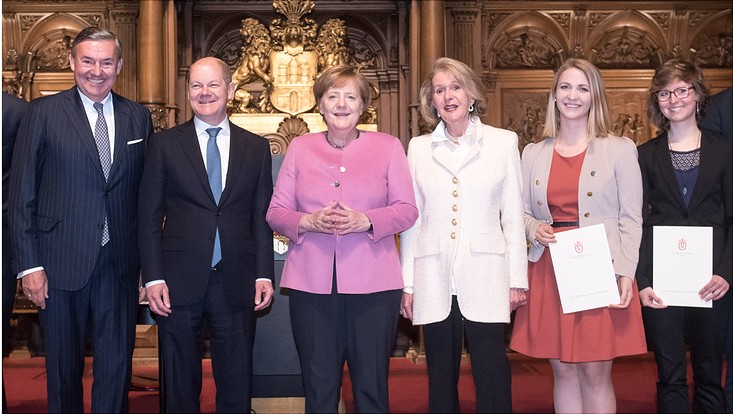 Photo: Krafft Angerer
Award ceremony in the Hamburg Town Hall. From left to right: president of the Übersee-Club e.V. Michael Behrendt, first mayor of Hamburg Olaf Scholz, federal chancellor Angela Merkel, Ingrid Harré-Eichmann, awardees Stephanie Schrage and Eliane Lorenz.
Eliane Lorenz, Stephanie Schrage and Jan Wilkens, research associates at Universität Hamburg, were awarded scholarships from the Übersee-Club e.V. on 5 May 2017. The ceremony took place in the large ballroom of the Hamburg Town Hall. To mark Übersee-Tag (abroad day), the federal chancellor Dr. Angela Merkel and the first mayor of the Free and Hanseatic City of Hamburg Olaf Scholz attended the award ceremony. [Read on in German . . .]
The Übersee-Club was founded in 1922 "to promote Hamburg's standing in the world" and has since been a non-profit organization to encourage exchange between the corporate and academic sectors. Since 1982 the Übersee-Stipendium has been awarded every two years to young academics to help them fund educational and research stays abroad. This year, Eliane Lorenz (research associate at the Institute of English and American Studies, English linguistics, Prof. Dr. Peter Siemund); Stephanie Schrage (research associate for the professor of business administration with a focus on corporate ethics, Prof. Dr. Dirk Ulrich Gilbert); and Jan Wilkens (research associate for the professor of political science with a focus on global governance, Prof. Dr. Antje Wiener) will be using the Übersee-Stipendium for research in Vietnam, Bangladesh, and Lebenon respectively.