After You Get Your Degree Universität Hamburg Alumni on Their Path Toward a Career
22 March 2023, by Marie Schlicht / Anna Priebe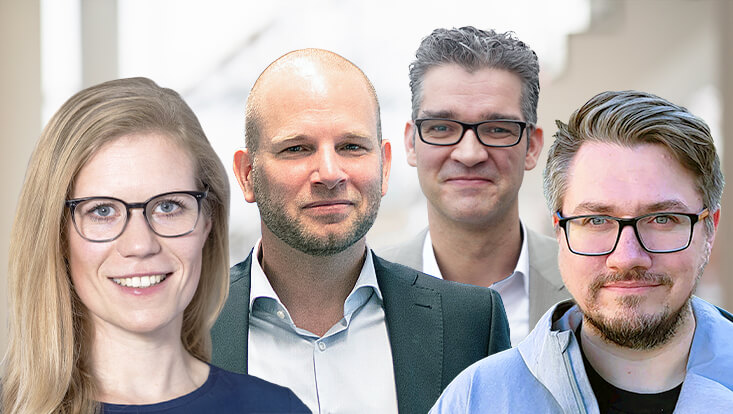 Photo: Universität Hamburg, RRZ/MCC, Mentz; Dennis Williamson; private (2)
Every year, thousands of students earn their degree here. Hundreds of doctorates are also awarded. And the career options available after that are many and diverse. In this series, alumni from various faculties talk about what they learned at Universität Hamburg and what advice they have for students. This time, 4 alumni of the Faculty of Psychology and Human Movement Science offer their thoughts.
Psychology and human movement science alumni

Dr. Ann-Kathrin Rogge
At the University: Diplom in psychology with minor in human movement science (2006–2012), doctorate in cognitive neuroscience (2013–2019)
Today: Project manager for clinical studies for a pharmaceutical company
In my role, I plan and supervise scientific studies and am the interface between development and physicians carrying out research. Therefore, I continue to work very scientifically and benefit from the good-quality training I received during my doctoral studies. In my daily work, I can now apply many of the skills that I learned and further developed during that time, for example, to study design and evaluation.
Before graduating, I knew that I wanted to stay in the field of health research in general. Here, career coaching in particular helped me sort out my interests. At the same time, I talked to a lot of people whose jobs sounded interesting and asked them about their everyday work. I highly recommend this, especially toward the end of your studies. You can do this through friends of friends or through social career networks. There are many people willing to talk to you about their job, giving you a good idea about whether the job might be a good fit for you. You also learn about career fields that you may never have heard of and therefore did not even have on your radar.
The biggest challenge in my move from scientific research to the research industry was that it coincided with the coronavirus pandemic, at which time companies were not prepared for purely digital application processes—if they had positions to fill. It was necessary to remain optimistic and flexible.

Dr. Mario Bogdanov
At the University: Doctorate (2014–2017), postdoctoral research in the cognitive psychology working group under Prof. Dr. Lars Schwabe (2017–2018)
Today: Nonmedical professional at McLean Hospital in Belmont, Massachusetts, and postdoctoral research fellow at Harvard Medical School
As a scientist, I research how stress affects the experience and behavior of different groups—for example, healthy people compared to people with mental or neurological illnesses. However, this was not always my plan, because at the beginning of my bachelor's degree, I actually wanted to become a psychological psychotherapist. But as the semesters went on, my interest shifted relatively quickly toward research. When I started my doctoral studies at the Universität Hamburg, I had the firm goal of working in science.
Contentwise, my doctoral thesis topic prepared me perfectly for my current field of work and research—they are almost identical. Structurally, however, a university career is not without obstacles: temporary employment contracts, little ability to plan, and—this obstacle is still ahead of me—the jump to a professorship.
It is difficult to give general tips for doctoral studies. The conditions are too different, both between academic disciplines and within a subject. I would perhaps advise always maintaining a little emotional, distance despite all your enthusiasm for your project, in order to better get through the difficult phases of work that are sure to arise and not to give up out of frustration. This also includes looking after yourself by doing sports or other hobbies and enjoying life away from university without a guilty conscience. And, of course, Hamburg is particularly well suited for this.

Dr. Christoph Ramcke
At the University: Diplom (1996–2001) and doctorate (2001–2007) in sports science
Today: Managing Partner at BGF aktiv GmbH
What was my biggest challenge after graduating? To put the company that I established during my studies on a solid and lasting footing. Even during my studies, I was intensively dealing with which formats could be used to increase health awareness in companies.
Initially, however, I worked as a part-time advisor for a health insurance company in addition to being self-employed—my son had just been born, and you never know how secure the next contracts will be. But since then, I have taken off this "safety belt" and am 100 percent self-employed in the field of health promotion.
I was able to take a lot from my studies for my career path. We called our studies "project studies"—every year, I had at least one project in which we worked out topics very independently in a project group. Self-organizing and working out topics still often forms the basis of my work today. My studies were also a great help in preparing me for the workshops and keynotes I give.
In addition to content-related things, contact with other students at the University is also important. That is why I recommend networking! Do not simply ask what is relevant for the examination in seminars, and blow off steam sometimes. That is what studying is for, and that is what we sports scientists are known for.

Prof. Dr. Niels Van Quaquebeke
At the University: Diplom in psychology (2000–2003), doctorate in social psychology (2003–2007)
Today: Professor of Leadership and Organizational Behavior at Kühne Logistics University in Hamburg, Distinguished Research Professor at the University of Exeter.
Professionally, I have tried all sorts of things in my life. As a school student, I worked in kitchens, spent my summer vacations in construction, and, after graduation, did my civilian service in psychiatry. In addition to my studies, I was a programmer for design agencies and worked in strategic corporate consulting, among other things. During this, one topic has preoccupied me everywhere: respect in the workplace. I subsequently chose that as the topic for my doctorate.
However, I definitely did not have an academic career in mind at the beginning. It really helped me to try out a lot of things; in the end, I was convinced that I could deal with the topic close to my heart. Therefore, I did not have to deal with the brutal uncertainties of this career path until much later.
Today, I try to pass on to my students what I took away from my former professors: how teaching can be different, how to teach in a student-centered way, and how to give young people confidence without overwhelming them. They have shaped my style, and I am immensely grateful to them for that.
My tip for students is to experiment as much as you can. No one needs straightforward anymore; ChatGPT can do that.