This page:
UHH
>
Newsroom
>
In focus
>
Royal visit: William and Kate meet Universität Hamburg students
Royal visit: William and Kate meet Universität Hamburg students
24 July 2017, by Franziska Neigenfind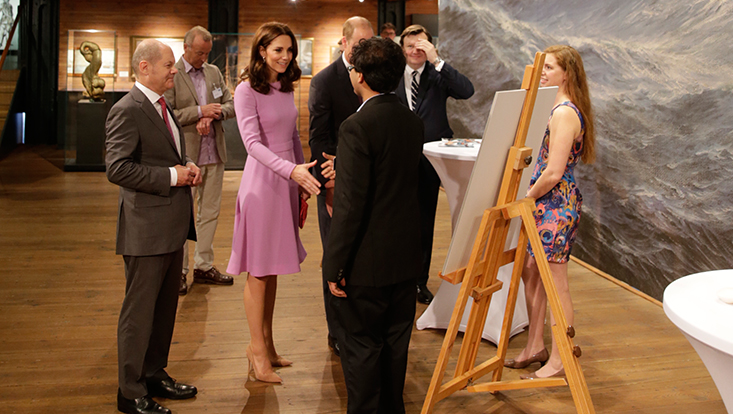 Photo: Roland Magunia / Senatskanzlei Hamb
Shubhankar Sengupta (foreground left) and Zoé Rehder from SICSS greet the royal couple and Hamburg's First Mayor Olaf Scholz before giving a presentation on climate change in the Arctic.
The British heir to the throne Prince William and his wife Kate visited Hamburg last Friday and expressed their interest in marine and ocean research. At the International Maritime Museum they met young researchers from Hamburg, Bremen, and Kiel. Two students from the SICSS graduate school at Universität Hamburg explained changes in sea-ice on the arctic coasts and the significance of the arctic basin for the global climate system. [Read on in German]
Die SICSS-Studentin Zoé Rehder verdeutlichte, wie sich der globale Klimawandel zum einen auf die Meereis-Bedeckung in der Arktis auswirkt. Zum anderen beeinflusst er auch die Bildung von Eis in den Küstengewässern Sibiriens – und zwar dort, wo die großen Flüsse ihre eisige Fracht entladen. "Prinz William und Herzogin Kate verfolgten die Ausführungen überaus aufmerksam und stellten Fragen, um weitere Details über unsere Arbeit zu erfahren", sagt Zoé Rehder. Shubhankar Sengupta, der sein Masterstudium ebenfalls an der SICSS absolviert, skizzierte das interdisziplinäre Ausbildungsprogramm der Hamburger Graduiertenschule. Er gab Beispiele, wie die Studierenden von der Zusammenarbeit mit erfahrenen Wissenschaftlerinnen und Wissenschaftlern der verschiedenen Institute profitieren.
Nach Berlin und Heidelberg besuchten William und Kate die Stadt Hamburg als letzte Station ihres dreitägigen Staatsbesuchs in Deutschland. Im Internationalen Maritimen Museum wurden sie vom Ersten Bürgermeister der Freien und Hansestadt Hamburg, Olaf Scholz, empfangen. Im Mittelpunkt stand hier das Wissenschaftsjahr des Bundesministeriums für Bildung und Forschung. Das Wissenschaftsjahr wird unterstützt vom Konsortium Deutsche Meeresforschung, dem Zusammenschluss aller großen deutschen Forschungseinrichtungen auf den Gebieten der Meeres-, Polar- oder Küstenforschung. Zudem sprach das Paar mit den Studierenden über das deutsch-britische Wissenschaftsjahr 2016*17 unter dem Motto "Meere und Ozeane".
Mehr über die Graduiertenschule SICSS finden Sie hier.
---
Kontakt
Franziska Neigenfind
Öffentlichkeitsarbeit CliSAP/CEN Office
Grindelberg 5
20144 Hamburg