New Antarctic expedition has started
Tracking of Fin Whales for the First Time Using Satellite Transmitters
28 February 2023, by Anna Priebe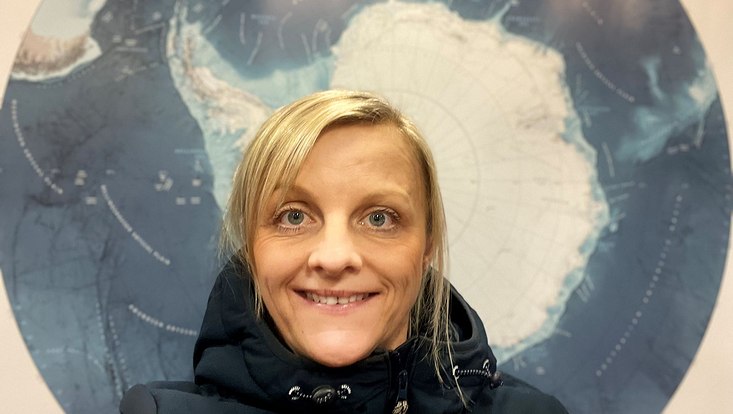 Photo: Private
Dr. Helena Herr aboard the Maria S. Merian for the recently launched expedition
We already know where the fin whales of the southern hemisphere feed. Researchers, however, have not yet studied where they mate and breed. Now an expedition to the Antarctic, which started on 25 February, hopes to find out. The Universität Hamburg biologist Dr. Helena Herr is leading the expedition. In this interview, she talks about the project and the special challenges it poses.
You have been researching fin whales for several years. Thanks to your observations, you have already discovered a great deal about their population numbers in the western Antarctic. What are you planning to do on this expedition?
This time, it's the whole gamut: we have drones and cameras to estimate the number of fin whales in our study area and to study their movement patterns. We want to use an acoustic recorder to record the whale vocalizations. At the same time, we will conduct a krill survey, during which we will sample krill biomass and distribution along our cruise track to analyze the relationship between the distribution of krill and whales.
The special thing is that for the first time, we will equip the fin whales with satellite transmitters. Ideally, these will transmit the whale's position for up to one-and-half years, everytime the whales surfaces, which will enable us to track their migration . Like most baleen whales, fin whales migrate seasonally, which means that in the Austral summer, they head to the well-known feeding grounds and afterwards move on to other areas where they mate and breed. But where these regions are, we don't know, and this is what we want to find that out using these transmitters.
What will that procedure look like?
We know the whales' feeding grounds and we will systematically cover these by our visual survey. When we find a larger number of fin whales, we will launch small boats to approach the whales. The transmitters will be deployed using a kind of air gun. We will try to deploy them directly below the dorsal fin, because the transmitters transmit the position via satellite and they can do so only if the antennae break through the water's surface. That's why the transmitters have to be placed at the highest point of the whale that regularly surfaces.
We will choose healthy animals for the transmitters.
Invariably, we have to ask: does this hurt the whales?
We cannot say that the whales don't notice anything; after all, we find shots unpleasant as well. Sometimes the animals react by diving, but often they don't react at all. While it may sound brutal, we have to put this in proportion, because the transmitters help us study and protect whale populations. And the transmitter that we use is 30 centimeters in length while the whale's blubber is up to 50 centimeters thick. Over time, the transmitter, like a splinter, may grow out. And even if it doesn't, it is constructed so as not to harm the whale. It is basically like an implant. As a rule, we would also not choose young animals or animals that are clearly unwell or weak for the transmitters. And whale calves are absolutely off limits. We will choose the healthiest, hardiest animals possible for the transmitters.
How many transmitters are we talking about?
Twenty-five in total. We have 19 transmitters that are larger and should last over a year. Then there are 6 smaller ones that last a shorter time but can transmit more than just position; they can also transmit, among other things, diving depth and the time a whale spends at certain depths. Of those, we recently placed 2 as a pilot study during another expedition.
These 2 transmitters lasted 30 days and we captured the tracks of 2 fin whales during that time. When they left the feeding grounds, they swam an almost parallel course and apparently had the same destination. However, we don't know the ultimate destination because the transmitters didn't last long enough. To be able to find out whether swimming in the same direction was coincidental or if the whales from different feeding grounds were really headed to the same destination, we need a larger sample and longer transmission times. So we will not use all the transmitters at once; just a few at each station we are heading to.
What happens with the data?
The whales' positions will be received via the Argos satellite system and made available on a user platform where they can be accessed. You can even adjust it so that the program informs you every time a new whale position is available. For the first 2 transmitters that we deployed, I followed every push message nervously to check the transmission of every data point.
When can we expect results?
We assume that the whales will stay at the feeding grounds until the end of the feeding season and will start their migration before Antarctic winter sets in in May. Both whales from the pilot study started off on exactly the same day. Tracking their migration, we will observe where the animals stop their transit and come to rest again—that will be their wintering ground and probably also their mating area. In a year, we expect them again in the western Antarctic for feeding. So we don't have to wait until the transmitters stop transmitting; hopefully we will already have some important findings in half a year.
It's not just about geographically locating the whales, though, is it?
No. We will also obtain a small tissue sample from every whale equipped with a transmitter so that we can determine the sex, genetically identify the whale, and, via the analysis of stable isotopes and fatty acids, gain information about feeding ecology. So we are trying to better characterize the tagged whales and to obtain information about population structures.
A lot of our knowledge still is from the whaling period.
Why is there so little known about fin whales?
There are many reasons. Much of our knowledge on fin whales is from the whaling period, which means that we know where their feeding grounds are located because this is where they were caught. Due to intensive whaling in the twentieth century, however, fin whale populations especially became so decimated that when whaling ended there were hardly any left to study.
Then there is the fact that the fin whale is harder to study, say, than the humpback whale because the fin whales do not gather at coastal breeding grounds; they live far from the coasts and can be observed in larger groups only in the Antarctic. Having recently been able to prove scientifically that the population is recovering was a huge step, and increased numbers now make other projects possible. However, all Antarctic research is labor-intensive and expensive. You first have to have the resources. It is a huge privilege to be able to use a German research vessel solely for the purpose of fin whale research.
How do you put a crew together for such a special expedition?
Our trip will take place under the aegis of Universität Hamburg with logistical and staffing support from the Alfred Wegener Institute and the participation of researchers from, among other places, the University of Gdansk, the Italian Tethys Research Institute, and the Norwegian University of Science and Technology.
For the ship time application, we already had to provide a very detailed description of what we want to study and how it can be best achieved. Of course, we also had to fill the 21 berths available for researcher on board, with experts in the respective fields, as well as technicians and students.
The person deploying the transmitters is of speial importance. There are only a handful of people in the world who have the necessary expertise and experience. My colleague from the University of Washington who is joining the expedition has already placed transmitters on many species of whales in the most diverse ocean waters, so she is our guarantee that everything will be handled optimally.
Based on your expedition experience, what do you need on board so that everything works?
A camera! We are traveling to such a fascinating, impressive, and unknown world in which we will no doubt encounter so many things that we will definitely want to photograph.
Other than that, for the atmosphere on board to be good it helps a lot when the food is good. We also have a medical doctor on board because evacuation in case of need is very difficult in the Antarctic.
Other than that, it helps to have an emotional armor consisting of sound preparation, a certain level of trust, and patience. Because we don't know what the weather will be like when we arrive. It may be that we will have to endure 2 weeks of stormy weather or fog and cannot lower the small boats into the water. On my last expedition, we encountered the first fin whale aggregation 6 weeks into the cruise only. So you need to be somewhat relaxed for this kind of venture and you cannot succumb right away to despair if it doesn't all go according to plan.
FINWAP project
The expedition on the Maria S. Merian started on 25 February in Punta Arenas in Chile. The journey was supposed to take place 3 years ago, but, due to the corona pandemic, was canceled just 5 days before it was set to start. On the current expedition, which will end on 30 March in Montevideo in Uruguay, there will be 21 researchers on board. Dr. Helena Herr, who is leading the expedition, is a researcher in the section Marine Ecosystem Dynamics and Management in the Department of Biology as well as at the Center for Earth System Research and Sustainability (CEN) at Universität Hamburg. She is also a guest researcher at the Alfred Wegener Institute Helmholtz Centre for Polar and Marine Research.
Contact:
Newsroom editorial office
Universität Hamburg