Project "Autobarge"
How can autonomous vessels be efficiently introduced in inland shipping?
Doing the Research series
5 January 2023, by Matthew Fennessy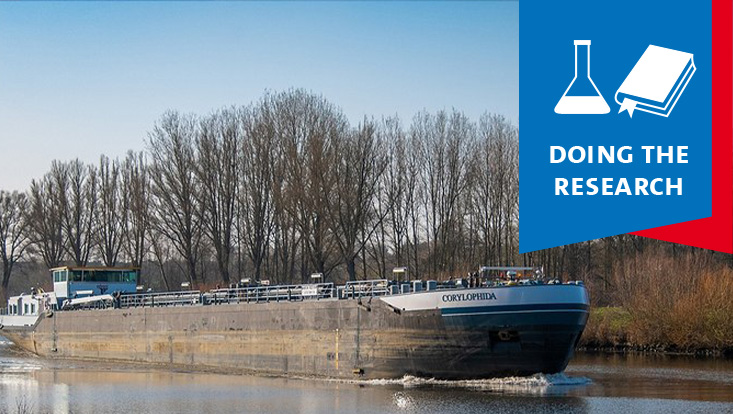 Photo: pixabay/dendoktoor
In the future, inland waterway vessels will also be able to operate autonomously. A team from the Faculty of Business Administration at Universität Hamburg is reseaching how this can work for the economy.
Researchers are not only developing technologies for autonomous cars, but also for vessels used for inland waterway shipping. But until now, no model has taken into account all the different economic and political factors involved in introducing such autonomous vessels. The team around Prof. Dr. Qing Liu and Lingyu Zhang want to change that and create a basis for scientific evaluation. In our Doing the Research series, they describe their research project.
What is the goal of your research?
Liu: At the moment, researchers are developing technologies for autonomous vessels used for inland waterway shipping. Experts expect water shipping to become more attractive – and thereby reducing demand for rail and road transportation –, assuming the new technology brings cost savings, safety enhancements, emission reductions, or other benefits.
However, without a solid economic model, such expectations cannot be scientifically evaluated prior to implementation. So the primary goal of our project is to establish a freight transport model dedicated to autonomous inland shipping in Europe. Environmental effects will also be evaluated.
This sounds like an important question for many logistic and shipping companies.
Liu: It is. Autonomous vessels are still very new to the market, so there is very little data for transport and logistics companies to decide whether investment is worthwhile. And there are many different factors to consider, for example, delivery times, environmental impacts, and the level of service. Would they choose inland waterway shipping over trains or trucks if they could lower carbon dioxide emissions by ten percent? And what should government policies such as subsidies look like? To efficiently and successfully introduce inland autonomous vessels, we need a scientific foundation and a model that considers all the different factors, allowing us to evaluate possible combinations of different transportation modes.
How are you researching this?
Zhang: The first step is to conduct surveys in the form of interviews and questionnaires. Through them, we will gain a thorough understanding of the market, such as general concerns, challenges, shipment demands, etc. We will interview representatives of European ship owners and service providers such as Hapag-Lloyd, Kühne + Nagel, and TS LINES.
Second, based on the information from our surveys, we will establish economic models to analyze changes in demand for different transportation modes, such as rail and road, with the implementation of inland autonomous vessels. And we will also use simulations and develop a suitable approach for evaluating carbon emissions from inland waterway shipping, taking account of autonomous and non-autonomous shipping.
You are not only looking at Germany but all of Europe. Who are you collaborating with?
Zhang: Our project includes seven EU universities in Belgium, the Netherlands, Norway, and Sweden. Since our research is so closely related to shipping practice, we are collaborating with two high-technology companies and the non-university research institute, Institute of International Transport Law (IDIT). In addition to academic publications, we will share our reports and information with the public and the various stakeholders.
The Project
The project "Freight transport model with autonomous inland shipping applications and environmental externalities" is part of the Autobarge program, which is one of the European Commission's Marie Skłodowska-Curie Actions. The program aims to train future experts for autonomous inland shipping.
Doing the Research
There are approximately 6,200 academics conducting research at 8 faculties at Universität Hamburg. Many students also often apply their newly acquired knowledge to research practice while still completing their studies. The Doing the Research series outlines the broad and diverse range of the research landscape, and provides a more detailed introduction of individual projects. Feel free to send any questions and suggestions to the Newsroom editorial office(newsroom"AT"uni-hamburg.de).
Kontakt
Newsroom Redaktion
Universität Hamburg