New spider species named after Bob Marley
An interview with spider research Dr. Danilo Harms
26 January 2018, by Daniel Meßner
1 von 3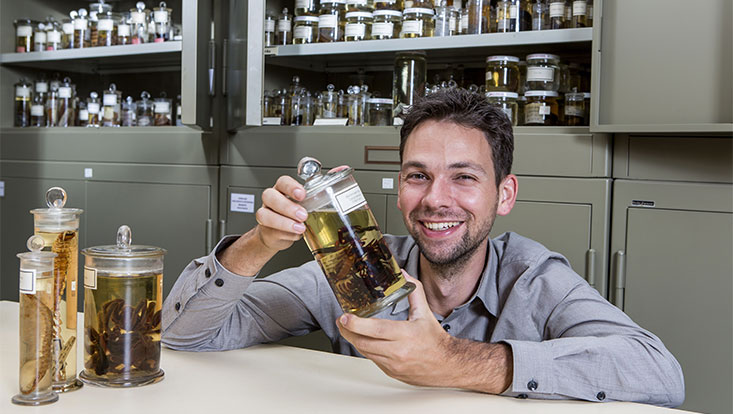 Photo: UHH, RRZ/MCC, Mentz
Dr. Danilo Harms heads the arachnid collection at CeNak. He and his Australian colleague named the newly discovered spider species after Bob Marley.
Photo: R. Raven
This is what the Desis bobmarleyi looks like. Here is a female specimen...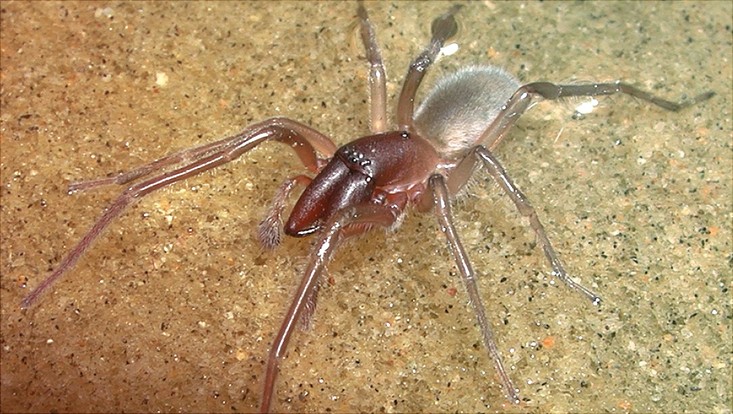 Photo: R. Raven
... and here is a male specimen of the newly discovered spider species.
The Desis bobmarleyi is a new species of spider discovered in the corals of Australia. The spider has now been described for the first time in Evolutionary Systematics, the scientific journal published by the Center of Natural History (CeNak). We asked spider researcher Dr. Danilo Harms why the spider was named after the reggae legend.
What is special about the newly discovered spider species?
It's mode of life. It is one of the few species of spiders found in the ocean. The creatures live in the surf zone, on corals or stones. During high tide, they hide themselves in little self-woven air chambers similar to dive bells, enabling them to survive long phases of high tide. At low tide the spiders crawl onto corals in search of food. This is pretty unique. Normally, spiders are terrestrial animals.
This species has been named after Bob Marley. How did you come up with that?
Both my colleague Barbara Baehr, who collected the spiders in Australia, and I like reggae. I often listen to reggae when working and while this song, "High Tide Low Tide," was playing, I thought it perfectly described the spider's mode of living. So it's not a name based on outward similarities, although the spider is pretty hairy. The spider can also be found in Queensland, where there is a lot of sun and sand. That's perfect for reggae and Bob Marley.
Who actually determines the names for new species?
We can proclaim a name ourselves. It just has to conform to the International Code of Zoological Nomenclature. These regulations define how to describe species. One requirement, for example, is that work is published in a scientific journal with several editions and is available in print. Furthermore, the name has to be given in line with several formal criteria, for example, it has to be Latinized.
Are new spider species discovered often?
That depends. The chance of discovering a new spider species in Central Europe is relatively low. This is due to the fact that spider diversity is lower here and the current state of specimens is already very good. In the tropics, however, there are a few areas in which 30–50% of all species haven't been described yet. Recently, I was traveling around West Africa, where there are still many unknown species.
One problem of biodiversity research is that we live at a time in which we are losing a huge number of habitats. And we are losing these species before we even discover them. That's why we don't just describe new species morphologically; we also take tissue samples and save DNA in a biodiversity data bank for the future.
Is the Desis bobmarleyi endangered?
We don't know exactly how widely distributed the spider is. We assume that it can be found along the continent's entire tropical east coast. What is clear is that it lives on corals and we are experiencing, also due to climate change, massive coral reef destruction. There is no study on whether this affects the spider population but at the moment I would not assume that we are talking about an endangered species.
New scientific journal: Evolutionary Systematics
CeNak is now publishing a new scientific journal, Evolutionary Systematics. The journal recalls the traditional "Mitteilungen aus dem Hamburgischen Zoologischen Museum und Institut" and "Entomologischen Mitteilungen aus dem Zoologischen Museum Hamburg." It contains articles on taxonomy, meaning the naming of new species, biosystematics, evolution, and morphology and it generally references the University's scientific collections.
Link to journal: https://evolsyst.pensoft.net/
Link to article: https://evolsyst.pensoft.net/article/15735/
---
Dr. Danilo Harms
Center of Natural History (CeNak)