16 August 2017, by Dr. Angelika Franz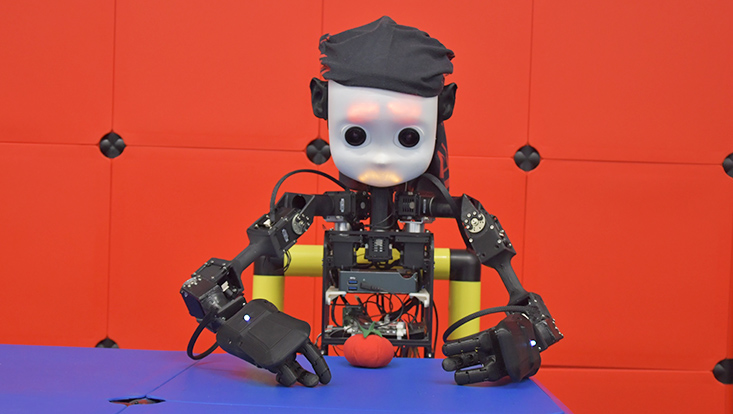 Photo: UHH/www.knowledge-technology.info
NICO (Neuro-Inspired Companion) resembles a three-year-old child in both mimic and stature. A tomato can preoccupy NICO for several hours.
The informatics campus in Stellingen is home to an unusual community of researchers, students, and robots. Just like small children do at school, the robots there learn to mind their manners, show respect, and be considerate of others. [Read on in German . . .]
NICO ist frustriert. Er hat die rote Stofftomate so auf den Tisch gelegt, dass er sie nicht wieder aufnehmen kann. Der kleine Roboter guckt traurig. "Nicht so schlimm, NICO", tröstet sein Lehrer Dr. Matthias Kerzel und legt die Tomate wieder in die Tischmitte. "Versuch's noch mal." Entspannung auf dem Roboter-Gesicht. Er senkt den Kopf, konzentriert sich, streckt seine Hand aus, findet die Tomate auf Anhieb – und lächelt.
NICO (Neuro-Inspired Companion) ähnelt in Mimik und Größe einem dreieinhalbjährigen Kind. "Es soll ja Spaß machen, mit ihm zu arbeiten", erklärt Kerzels Kollege Dipl.-Ing. Erik Strahl. Die beiden Forscher gehören zum Arbeitsbereich "Knowledge Technology". Unter der Leitung von Prof. Dr. Stefan Wermter arbeiten sie mit zwei NICOs und sieben kleineren humanoiden Robotern namens NAO in einer Art Roboter-Schule im Informatikum der Universität Hamburg. Dort sollen die Roboter lernen, sich in einer von Menschen bewohnten Umgebung so menschlich wie möglich zu verhalten.
Freundliche Roboter, die im Haushalt helfen
Ziel ist es, Roboter zu entwickeln, die als Altenpfleger oder Haushaltshilfen arbeiten können, ohne dass sie als störend oder unheimlich empfunden werden. "Wir sind sehr damit beschäftigt, unseren Roboter-Assistenten beizubringen, besser sehen, hören, greifen und verstehen zu können", betont Prof. Wermter. "Um unter Menschen leben zu können, muss NICO lernen, sehr flexibel auf eine sich ständig verändernde Umwelt zu reagieren", beschreibt Kerzel die Aufgabe seines Schützlings.
Wie in der Schule hilft da nur: üben, üben und noch mehr üben. Mit der Tomate kann NICO sich stundenlang beschäftigen. Er hebt sie auf, legt sie an einem anderen Ort wieder ab und startet den Vorgang erneut. Jedes Mal speichert er neue Informationen über diesen Vorgang ab – er lernt. Am Anfang muss ihm noch ein "Lehrer" – Kerzel oder ein Studierender – helfen, wenn er danebengreift. Aber mit jedem Griff wird NICO sicherer.
Herausforderung: Einen humanoiden Roboter designen, der als positiv empfunden wird
Für den Kopf haben sich die Forscher vom iCub inspirieren lassen, einer offenen, EU-geförderten Roboterplattform für kognitive Forschung. Das Gesicht entspricht mit großen Kulleraugen klar dem Kindchenschema. "Es ist eine schwierige Gratwanderung", erklärt Strahl. "Einerseits soll ein Roboter, der mit Menschen interagiert, natürlich möglichst menschliche Züge haben. Wenn ein Roboter aber zu realistisch ist, wird das nicht mehr als positiv empfunden."
Mit seiner Mimik soll NICO nicht nur die eigenen Emotionen ausdrücken, sondern auch die seines menschlichen Gegenübers spiegeln. Bei einem Lächeln ist das noch leicht. Doch wie sieht Überraschung aus? Wie Ärger?
Bei einer Studie mit 20 Teilnehmenden kam es gelegentlich vor, dass ein Gesichtsausdruck des Roboters unterschiedlich interpretiert wurde. "Wenn aber nicht einmal Menschen einheitlich Gesichtsausdrücke erkennen können, ist es natürlich schwierig, einem Roboter beizubringen, das verlässlich zu tun", erläutert Strahl die Problematik. Also gilt: üben, üben und noch mehr üben.
Gefördert wird das NICO-Projekt über die EU Marie Curie Projekten Socrates und Secure sowie über den DFG-Transregio "Crossmodales Lernen". Mehr Informationen finden sich auf www.knowledge-technology.info.
---
Contact
Dipl.-Ing. Erik Strahl
Fachbereich Informatik
Knowledge Technology Research Group
Contact
Prof. Dr. Stefan Wermter
Fachbereich Informatik
Leitung Knowledge Technology Research Group