Coworking spaces for creative founding teams
Protecting Bees with the Help of Artificial Intelligence
27 July 2022, by Anna Priebe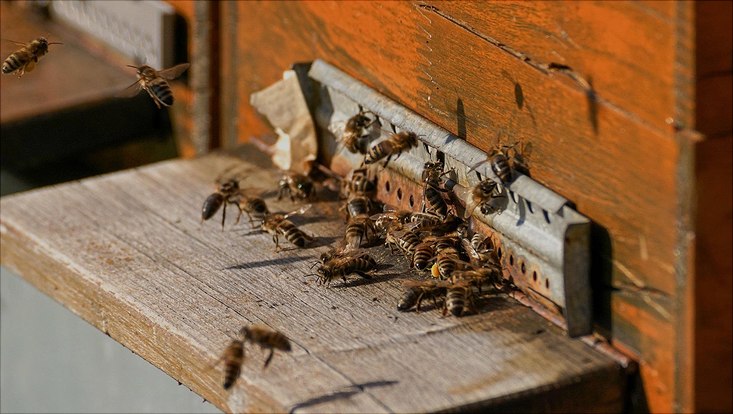 Photo: pixabay/suju-foto
Colony collapse endangers plant diversity. A research team has developed a method based on artificial intelligence to monitor bee colonies for mite infestations.
How can we detect mite infestations of bee colonies early? An interdisciplinary research team has developed technology that enables automated acoustic monitoring. For this work, the team is using one of the new coworking spaces offered by the University. Nabil Basharat and Kevin Kraus discuss their joint creative work.
Species protection and insect deaths are current issues How did you come up with the idea to tackle this problem with artificial intelligence?
Kevin Kraus: The starting point for finding a topic during the Digital Innovation Lab seminar was the United Nation's 17 Sustainable Development Goals. When I told my friend whilst brainstorming about a start-up that uses image analysis from within a beehive to monitor arriving and departing bees as well as pollen amounts, she mentioned that her mother had kept bees for a long time. However, they died due to the varroa mite—a type of mite that infests beehives and is one of the main causes of colony collapse worldwide. Even here, there are approaches that use image analysis to monitor infestations. We wanted to automate this technology, which proved to be extremely impractical.
How did your alternative approach work?
Kraus: We did further research and stumbled on the idea of using the acoustics of bees as an indicator of a colony's health. It turns out that you can detect, for example, whether a queen is present by listening to the buzzing and whether there is a varroa mite infestation. Therefore, we opted for this monitoring approach.
Our prototype consists of a small microcontroller (i.e., a chip) that contains various control elements and is powered by solar electricity. It is a quasi mini PC that uses a machine-learning model to record and analyze tones. We trained the model using recordings of bee sounds and repeatedly tested it. That means that the device conducts the analysis directly on-site and only the results of the classification must be transferred at the end.
What were the challenges?
Kraus: Machine learning depends greatly on the quality of the data used to train the artificial intelligence. Unfortunately, there is no database with audio files of different bees, for example, with a termite infestation. We were only able to train our prototype to distinguish between bees and ambient noise. The model still has to learn to identify the specific sound of bees infested with mites.
Nabil Basharat: However, we have developed a basic technology that can be installed on a beehive in order to record noises and directly process them. It helped greatly that we come from different areas. Tobias Bartsch and Kevin are doing master's degrees in information systems and took care of the software, the machine learning, and the hardware architecture. Also in our team was Alexia Geoffrien, an exchange student from France who contributed a marketing perspective. I am an industrial engineering and management student and, above all, was responsible for the design and production of the box that holds all components and is fastened to the beehive. For this, I used—among other things—the 3D printer in the coworking space.
The new coworking space for founding teams was an important component of the Digital Innovation Lab project. How did you benefit from this creative space?
Basharat: What was especially great was that so much hardware is available, like the 3D printer. In addition, it provides a lot of inspiration and potential to test developments. You can also use the space flexibly and always have a place to meet up at the University without having to search for one.
Kraus: Yes, and even the large-membrane microphone and the computer components for our microcontroller were very helpful. Above all, however, we also used the room to exchange with other groups.
Where do you go from here with your idea?
Kraus: So far, however, we have not had the chance to test it in practice. At the moment, no further development is planned following the end of the elective subject, but our development is open source. This means that perhaps people will be interested in further developing the prototype and implementing it.
Coworking space of the Management Transfer Lab
Since this year, the Management Transfer Lab at the Faculty of Business Administration (Hamburg Business School) has been offering a space for joint, creative work to all those from the university context who are interested in start-ups as well as EXIST Business Start-up teams. The coworking space at Von-Melle-Park 5 offers a comprehensive range of hardware (including a 3D printer, 4K cameras, high-performance PCs, and maker kits) and software (e.g., Qualtrics and Sawtooth). Here, founders will find space for creative work, making prototypes, validating their own business ideas, and exchanging ideas with other creatives. The space and hardware can be booked via the booking portal.
The coworking space and the Digital Innovation Lab course offered by Prof. Dr. Jan Recker (professor of Information Systems and Digital Innovation) are funded as part of the Federal Ministry for Economic Affairs and Climate Action's EXIST program.
Contact:
Newsroom editorial office
Universität Hamburg