3 March 2014
Opportunities for older adults who want to study at Universität Hamburg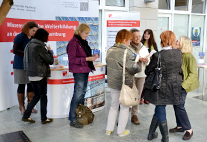 Photo: UHH/AWW
Information stand on contact studies for older adults
Contact studies for older adults are open to everyone and have no admission restrictions. There are courses for anyone who would like to learn more without striving for a university degree. In summer semester 2014, contact students can attend 300 lecture series and seminars in all subject areas. Read on in German...

Interessierte können sich zuvor am Infostand individuell und unverbindlich zum Studium beraten lassen und an den Informationsveranstaltungen mit Campusführung teilnehmen während der
Beratungstage zum Kontaktstudium
am 13. und 14. März 2014,
Infostand von 10.00 bis 16.00 Uhr
im Hauptgebäudes der Universität Hamburg, Flügelbau West,
Edmund-Siemers-Allee 1, 20146 Hamburg.
Informationsveranstaltungen mit anschließender Campusführung
am Donnerstag, dem 13. März, um 14.00 Uhr und am Freitag, dem 14. März, um 11.00 Uhr,
Hauptgebäude, Emil-Artin-Hörsaal (Hörsaal M), Edmund-Siemers-Allee 1.
Im Sommersemester bietet die Arbeitsstelle für wissenschaftliche Weiterbildung ein großes Zusatzprogramm speziell für die Kontaktstudierenden an: Seminare, die in das Studium und in das wissenschaftliche Arbeiten einführen, Sprach- und Computerkurse sowie Veranstaltungsreihen in besonders beliebten Fachrichtungen wie Geschichte, Kunstgeschichte, Psychologie oder Philosophie. In diesem Semester gibt es zum fachübergreifenden Semesterschwerpunktthema "Hamburg" besonders viele Vorlesungen, Seminare und Exkursionen rund um die Hansestadt. Weitere Exkursionen führen u. a. auch nach Rostock, Trier und Worpswede, eine wissenschaftlich vorbereitete und begleitete Studienreise zu den "Architekturikonen der Avantgarde in der Provinz".
Der Umfang des Studiums und die Studieninhalte können im Rahmen des Kontaktstudiums frei bestimmt werden, es können z. B. auch Vorlesungen aus verschiedenen Fächern kombiniert werden. Das Kontaktstudium steht Interessierten jeden Alters offen, Prüfungen gibt es nicht, das Abitur ist nicht erforderlich. Es kostet 110 Euro pro Semester. Dafür können mehrere Vorlesungs- und Seminarreihen belegt werden. Kontaktstudierende können wie die Regelstudierenden am Kulturkursprogramm des AStA und am Hochschulsport teilnehmen.
Beratung und Programmheftbestellung:
Universität Hamburg
Arbeitsstelle für wissenschaftliche Weiterbildung (AWW),
Vogt-Kölln-Straße 30, Haus E, 22527 Hamburg
Karin Pauls/ Stefanie Woll
Tel.: 040-42883 2499, -2477
URL: www.aww.uni-hamburg.de/kse.html
Download des Bildmaterials:
für Druck
für Bildschirmzwecke
Bild: UHH/Asbeck
Edit und Willi Tonn, Kontaktstudierende
Für Rückfragen:
Karin Pauls
Universität Hamburg
Arbeitsstelle für wissenschaftliche Weiterbildung
Tel.: 040-42883 2454
E-Mail: k.pauls"AT"aww.uni-hamburg.de