New cooperation: American professor visits Hamburg
14 June 2019, by Christina Krätzig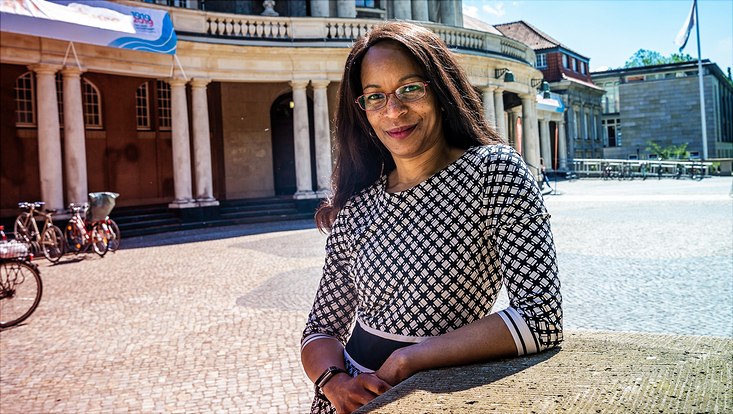 Photo: UHH/Ohme
Prof. Stacey Lee has been teaching at the Johns Hopkins Carey Business School and the Bloomberg School of Public Health since 2008.
Prof. Stacey Lee's areas of specialty are law, ethics, and the health system. Ms. Lee teaches and researches at the crossroads of these fields at Johns Hopkins University in Baltimore, Maryland. During her 2-week visit at Universität Hamburg, Lee explored new possibilities for cooperation between the partner universities.
Professor Lee, what distinguishes Johns Hopkins Carey Business School, where you teach?
The Carey Business School is part of Johns Hopkins University in Baltimore, Maryland. Hopkins was founded in 1876 and modeled upon the German university, making it the first university to combine research and teaching. Today, the private institution is one of America's elite universities.
The business school was founded in 2007. Roughly 1,000 full-time and 1,300 part-time students from 60 countries are now working towards a degree: either the Master of Business Administration or a Master of Science.
What brought you to Germany and Universität Hamburg?
I am visiting Universität Hamburg as part of a Fulbright program funded by the US Department of State and the German government. This enables academics from the United States to visit Germany.
My stay was primarily intended to strengthen ties between Universität Hamburg and the Johns Hopkins Carey Business School, particularly in the field of health economics. For example, Prof. Dr. Jonas Schreyögg, the director of the Hamburg Center for Health Economics (HCHE) and I have developed a plan for a joint research workshop. This workshop could already take place in Hamburg next year and then continue in Baltimore the following year.
As a child, I lived for 3 years in Germany; my father was stationed here. This made my return especially exciting.
Law, ethics, and the health system—at first glance, these seem like very different research areas. What do you do exactly?
After my studies, I worked as a lawyer for more than 10 years. I've worked for some of the largest healthcare corporations in the US. My focus was on advancing the companies interests, which did not always align with the patients. After several years, I felt the need to change to a more holistic approach to the law.
As a scientist, I can deal with the question of what legislation should look like in an ideal world. For example, I investigate whether a citizen of the United States has the right to get a particular medicine. This question becomes important when a person is terminally ill but a potentially effective drug has not yet been approved. Pharmaceutical companies make no exception in such cases; they are not allowed to release a drug if it is still in the approval phase. I believe that this is wrong and incompatible with American law.
Is there anything here in Hamburg or Germany that has surprised you?
Great beer and great food! (Laughs) Mostly, however, that the law requires you to retire at a certain age and the state pension system. We don't have either one of these in America.
---
Contact
Andrea Bükow
Outreach / Hamburg Center for Health Economics